God's Smuggler
Thursday, August 18, 2022 by Brave Knight Writers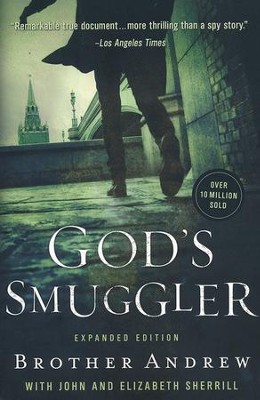 Have you ever heard of Brother Andrew?
A fascinating and fantastic story of a man who dedicated his entire life to smuggling Bibles behind the Iron Curtain and into communist countries. Growing up in the Netherlands, Andrew was fascinated by the world of spies and intrigue. He wanted to live an adventurous life filled with meaning. As he grew, so did his love for Jesus—and his understanding of the greatest battles of man, and of spiritual warfare.
What greater way to make his dream come true than to serve God on the side of good and sneak into enemy territory carrying a message of hope. He became a freelance operative, rather than serving in an existing organization. He found ways to obtain Bibles, and with no support system to bail him out, he crossed into enemy territory, unarmed but for his prayers and the Gospel. His missions were filled with danger and miracles. He made great personal sacrifices, but soon personal miracles helped him care for his wife and children who had known years of hardship.
Brother Andrew led an electrifying life venturing into the most dangerous countries on earth to bring people God's message. In these countries, to have a Bible could spell a long prison sentence or perhaps a disappearance. Many times, Brother Andrew faced the scrutiny of border guards and with answered prayer for miraculous reasons, he was given a pass. Brother Andrew's tale is riveting with insights into current events and exposes the fear of living in a country where God is forbidden.
We recommend reading God's Smuggler. Brother Andrew gave his all to his charity and efforts. Advanced in age, he has turned over the operation to younger people. Before you donate to his charity do your own research and determine for yourself if it still lives up to Brother Andrew's standards. We believe every Christian and non-Christian should read his story.
---
---