Book review: The Forgotten 500 by Gregory A. Freeman
Tuesday, July 19, 2022 by Brave Knight Writers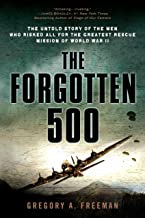 Fascinating tale of World War II, and those who served in the little known or understood battlefields of the Balkans. The author uses actual tales of the men who slogged through the mountains of Yugoslavia, gathering information to help rescue Allied bomber pilots hiding in villages and farms. He also exposes the inner workings of the OSS and the British Intelligence service. His descriptive prose draws you into the mountain scenes as German aircraft hunt down operatives. He tells of the backroom maneuvers of British officers and their ties to the Soviet Union, it's spy vs spy.
The courage shown by these OSS operatives and the C-47 crews who supported and transported them leaves one speechless. Flying in the dead of night into the mountainous terrain and landing in grass fields lit by torches and bonfires doesn't seem possible, but it's all true. I recommend reading of this true adventure to everyone, if you enjoy intrigue and suspense. In the end, it leads you to wonder who is who in the world of spies and politics? Who are good guys? Are there any good guys? There are questions about the motives of the pilots, crews, and lower-level operatives, at what level does the mission fall apart? This story contains the tales of some awesome Brave Knights.
---
---