JFK Profiles in Courage
Saturday, January 7, 2023 by Brave Knight Writers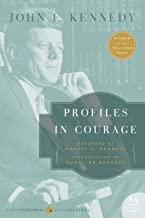 Profiles in Courage
by John F. Kennedy
John F. Kennedy served in World War II and demonstrated courage in the face of the enemy when his small PT boat was crushed by a Japanese destroyer. Under extreme conditions and suffering from wounds, he rose to the occasion and rescued his crew. Ten years later he wrote about courage, not his own wartime experiences but in the circumstance of politics. He chose to write about the courage needed to serve in the new situation he found himself in, the United States Senate. He also told of the men who went against the machine politics of their day. Our blog is about courage and bravery, John F. Kennedy's book reflects on such moral courage with examples of courageous men who drew on God to do the right thing. Each example shows their willingness to sacrifice what would be in their best interest to serve the betterment of the nation.
An excerpt from Profiles in Courage sums up the qualities of a Brave Knight, from page 235: "To be courageous, these stories make clear, requires no exceptional qualifications, no magic formula, no special combination of time, place and circumstance. It is an opportunity that sooner or later is presented to us all." He goes on, "In whatever arena of life one may meet the challenge of courage, whatever may be the sacrifices one faces if they follow his conscience—the loss of his friends, his fortune, his contentment, even the esteem of his fellow men—each person must decide for himself the course he will follow."
When we read the news, and wonder who is running our nation, knowing the history of politics helps to soothe the spirit. America has always been a nation of struggles; John F. Kennedy chronicles them well and without prejudice in Profiles. It's refreshing to know there may be brave people in Washington D.C. willing to put the nation above their own gain, people who may rise to the occasion in saving us from the political machines and media. Politicians with the stuff of John Quincy Adams, Daniel Webster, Thomas Hart Benton, Sam Houston, Edmund Ross, Lucius Lamar, George Norris, and Robert Taft all chose to do what was best for the nation and risked their futures. Several of them paid dearly but found solace in the knowledge they did right.
In chapter eleven, "The Meaning of Courage", JFK makes clear our efforts to provide stories and posts about courage amounts to only an attempt to define courage. "The stories of past courage can define the ingredients – they can teach, they can offer hope, they can provide inspiration. But they cannot supply courage itself. For each person must look into their own soul."
Spiritual Warfare exists, the true hero does not surrender, does not compromise, but dons the full armor of God and stands firm. Many of the senators in this book credit their strength and fortitude to God. If today's politics and media cause you frustration, pick up a copy of John F. Kennedy's Profile in Courage and journey back in time. History chronicles humanity's struggles within the heart. The great acts of courage need not take place under gun fire or exploding bombs, but in quiet solitude engaged in deep thought and reflection. Is there any wonder why his presidency was likened to Camelot? Kennedy exhibited all the traits of a brave knight.
---
---
Jan Sady From North Carolina At 1/8/2023 8:05:53 AM
Excellent review - one of our last great presidents. "Ask not what your country can do for you but what you do for your country." I had the privilege to see him in a motorcade on the streets of Washington DC before his death in 1963. I have never read the book, but I will now do so. Thanks. Jan