Plain Values
Wednesday, January 25, 2023 by Brave Knight Writers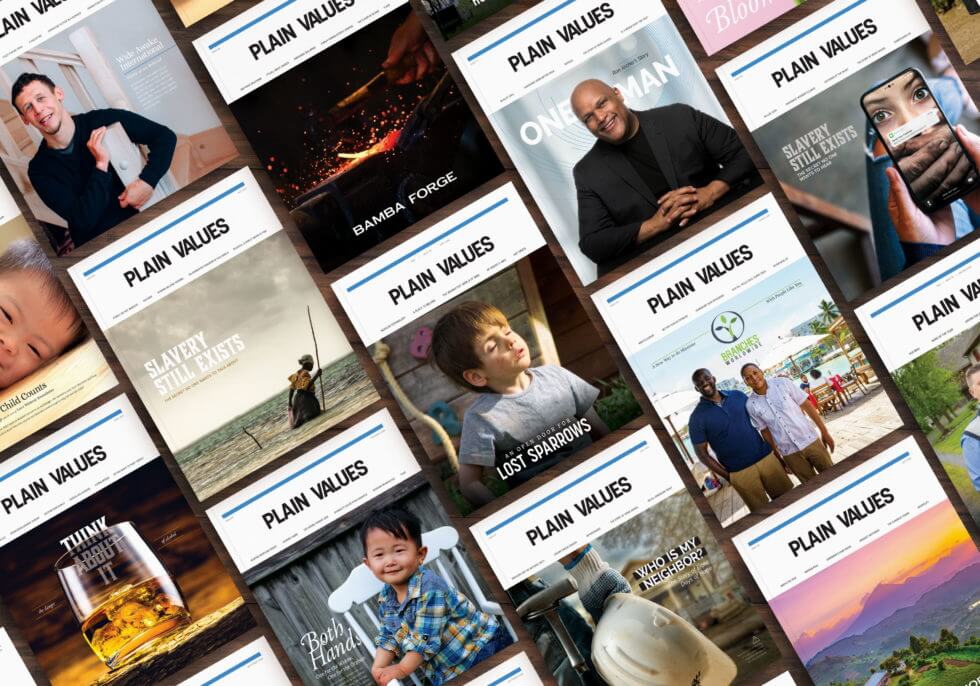 In using the term Plain Values, talking them up or talking about them seems counter intuitive. The people and stories in their magazine are plain folk, living out the routines needed to fulfill daily living. So, why would I blog about them on a site about courage? Well, because in today's world, their choices and lives go against the grain, the mainstream doesn't acknowledge or condone their lifestyle choices. Plain Values' embracement of a simple way of life contrasts with Madison Avenue. Plain Values touts enrichments beyond money and fame. Simply put, they value authentic life, all forms and aspects. So, let's try to point out some highlights in our short blurb, and suggest you look at their publication. You can view a link on our Indie Author Friends page. https://braveknightwriters.com/indie-authors-we-recommend
First, go to their 'About' section and you find as a young couple, they investigated and pursued the option of adoption. This is an unselfish and much needed move in our society. In other posts we have stated how much courage adoption requires. To take it a step further, the children chosen by them will require a great deal of understanding and larger doses of love. This young couple set out to create a very special and shining example of what life should be, with love as the cornerstone. One key to love is turning your life and will over to God. In their prayers, they ask God to bring them the children He wants them to have.
Ten years ago, these fine people started a publication to inform people of how rich a life lived in love can be. This step took many forms of courage. I think the best way to sum up their approach is by offering an excerpt from their 'About' page. "We do that purposefully because we want to be well-rounded, well read, and deeply thoughtful people. Our favorite people are those who have walked sections of life's road that are bumpy and hard and have not given up on God's purpose for their lives. We believe it makes us deeper, more soulful, and if we let it, wiser for the road ahead." There you have it. The publication profiles people from different situations who overcome and thrive by embracing simple values such as love. If you are struggling, the best way to put your struggles into perspective is to focus on things other than self.
Remember, if you want a rich harvest, you must cultivate and nurture first. Plain Values seeks to cultivate a community anchored in authentic living. The people in the magazine live what they write. They help children and inspire adults to address the challenges we all face with a lifted spirit. In the cultural turmoil of today, they are reimagining education and helping the orphaned and the unwanted find their forever homes. Homeschoolers, they have moved on to building a one-room schoolhouse called Juneberry Hill. Maybe it's time for our society to realize that education should center on family needs and values. This shift may have grassroot benefits to the larger community. Their publication is broken into interesting sections, Confessions of a Steward, Roots and Wings, The Roundtable, Homestead Living, The Healing Land, The Widow's Path, Honest Conversations, Serving Our Neighbors, and a section called From the Publishers. This includes, One Minute with Marlin, Room to Bloom, Juneberry Hill, and bonus sections of All Things Outdoors, Business Spotlights, and Our Heritage. Their publication has blossomed into almost 50,000 homes, with an estimated readership of 300,000. See if you can find any brave knights within their pages. We see them all wearing the full armor of God.
---
---