Leading the Way to Victory by Mark C. Vlahos USAF-RET
Thursday, February 9, 2023 by Brave Knight Writers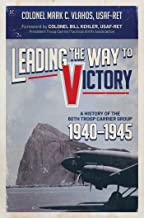 Courage takes many forms and addresses every aspect of existence. I refer our readers to Leading the Way to Victory by Mark C. Vlahos. He chronicles the 60th Troop Carrier Group's history from 1940-1945, quite a courageous undertaking in and of itself. Colonel Vlahos served in the United States Air Force for 29 years, so who better to offer such a beautiful treasure to honor the veterans who became known as 'The Greatest Generation'? Mark understands the sacrifices made by all those who serve, whether in war or peace. His assignments included command of a C-130 squadron in combat, Vice Wing Commander of the 314th Airlift Wing at Little Rock Air Force Base, and a wide range of operational flying experiences. These assignments offered many occasions to overcome fear and remain calm in the face of adversity. Colonel Vlahos studied at Virginia Polytechnic Institute & State University. At Webster University and the Industrial College of the Armed Forces he earned master's degrees. He's a member of the Troop Carrier/Tactical Airlift Association and the Leon B. Spencer Research Team of the National World War II Glider Pilot Committee.
In Leading the Way to Victory, he preserves and lists those who served in the 60th TCG, not just the officers but the privates, corporals, and sergeants. Most history books acknowledge in mass the soldiers who died, were wounded, or performed outrageous acts of courage—while naming the high ranking officers in command. Mr. Vlahos drills down into the everyday workings of what it takes to achieve victory. He offers insight into what makes the difference between having an army of soldiers gathered to force others to submit, or a group of dedicated soldiers in the cause of liberty and principles. The 60th as a group stands out in a time of war, it's mission didn't directly wreak havoc and destruction on an innocent populace or even armed troops. These courageous soldiers went into war zones and behind enemy lines unarmed, even their aircraft had very limited armor. They flew missions in the dark of night, into mountainous regions occupied by hostiles, and landed by torch light. Much to Mr. Vlahos' credit and detail, he examines everyday challenges faced by support personnel, like finding a sheet of plywood and painting it so staff can have a blackboard, or painting a slogan on the fuselage of an aircraft to please the pilot and crew. These are the unremarkable, remarkable feats found in this history book.
For a personal touch, Mr. Vlahos documents the actual words of those who survived, and these anecdotes take this book to an entirely new level. To have someone share their personal experience reaches the soul, and touches on the emotions of these soldiers. So many World War II soldiers saw such horrors, they could offer only silence after the war. They came home in search of joy and peace—and suppressed many memories. The ones who wrote of the experience offer us insight as to what war is really like, not a Hollywood glorified version. We thank Mr. Vlahos for his hard work and dedication to offer this treasure to the descendants of those who served, and to the American people so they can come to grips with what it takes to be free. The reader will find photographs, lists, maps, and charts along with well-structured and refined text. An awesome feature is the index which lists soldiers by name and indicates what pages mention them. Many thanks for publishing this book, and best wishes to Colonel Vlahos. If our readers go to our Indie Author Friends page, click the link to go directly to where you can purchase Leading the Way to Victory.
Mark C. Vlahos supports Vintage Wings Inc. and other charities.
---
---